World Tea Party: 2010 Winter Olympic Games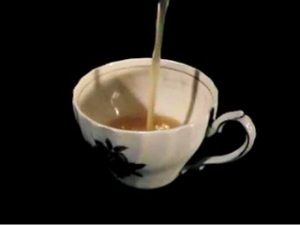 Feb 12 to March 21
2:00 pm to 10:00 pm daily
Tea, one of China's great contributions to world culture, has traveled far and evolved in many ways, but regardless of tradition, language and race, the sharing of this aromatic beverage celebrates both diversity and humanity. The World Tea Party will temporarily transform an art gallery into a tea house and performance space, engaging a diverse array of communities in Vancouver's Downtown eastside in collective art production.
Tea parties will be presented in the Centre A gallery, in local parks and community gathering places, and online. Projects include participatory Japanese tea ceremonies organized by the Urasenke Tea Foundation, and Squamish Nation herbal tea events featuring artist and herbalist Cease Wyss. Singers, dancers and a mobile tea trolley will acknowledge the ancient Luk Luk-i campsite and recognize and involve First Nations people living in the neighbourhood today.
Lead artist Bryan Mulvihill is a veteran creator known for an inimitable style that combines the role of tea master, calligrapher and facilitator of artistic encounters. Along with Su Schnee and Daniel Dion, Mulvihill is co-originator of The World Tea Party, a seminal exploration of "relational" art launched as an exhibition at the National Gallery of Canada in 1993.
CLICK HERE FOR THE OLYMPIC EVENT SCHEDULE
Presented With:
Vancouver International Centre for Contemporary Asian Art (Centre A) and British Columbia Arts Council
When:
2/12/2010 – 3/21/2010
2:00 pm to 10:00 pm.
Entrance fee, by donation, after 6:00 pm.
Where:
Vancouver International Centre for Contemporary Asian Art (Centre A)
2 West Hastings, Vancouver
Ticket Type:
Ticketed
Ticket information:
Price(s): 2:00 to 6:00 pm: Free
6:00 pm to 10pm: $5 adults, $3 students.
Tickets available at the door.
Telephone: 604 683 8326
The World Tea Party is a "social sculpture" that involves the creative empowerment of the audience and the general public. Its interactive aspect makes the World Tea Party an effective vehicle for a debate about the relationship between the Olympics and the Downtown Eastside.
Free Tea and Large Scale Video Projections
During gallery hours, tea is offered for free, both inside the gallery and at times on the street, while video projections are shown on the building's exterior windows daily from 6:00 pm to 10:00 pm.
Two 5,000 lumen video projectors will be used to project images 40 feet wide across the front windows of the gallery. Content will include works by commissioned artists, live images of performances, pre-recorded tea images, documentation of the World Tea Party in different contexts
Special Events
The World Tea Party features a number of special events, including Skwxumesh First Nations artist Cease Wyss, who will host a First Nations welcome event on Sunday, February 14, featuring indigenous herbal teas. On Saturday, February 20, Jun Oenoki, who is Associate Professor, Communication Studies, Tokyo Keizai University and artist-in-residence at Centre A, will produce a teleconference with partners in Yokohama which will be streamed live to the Internet and edited for outdoor display. The traditional Japanese tea ceremony is presented by the Urasenke society of Vancouver. The relaxed atmosphere of the World Tea Party invites conversation and informal performances. New additions to the line-up will be posted to the website.

Local Network – "Bright Light" partnership of 10 DTES arts groups
World Tea Party is key station in the City of Vancouver's Olympic and Paralympic Public Art Program: Bright Light, an initiative that provides pedestrian friendly light-based public art works, projections and performances along Carrall Street, Hastings Street and in the neighbouring area. The project brings together a consortium of 14 creative partners, including Access, Helen Pitt, Downtown East Cultural Centre, Artspeak, LIVE, UBC Architecture and others. Centre A acts as a hub and meeting place for Bright Light.
Come have a cup of tea!